In an effort to cure an intermittent power outages in "random" parts of the house several electricians agreed that we needed a new main breaker panel, the cost was a tough pill. So we began to call around for estimates, on the third call Brian drove down to Petaluma (I hope he had another call) poked around for like two minutes and told me to call PG&E because their connection looked loose on one leg. He didn't charge us, even though I tried to insist. PG&E checked all their connections from transformer to box and three months later with no problems! Brian could have made an easy couple grand, the problem would have gone away and we'd be happy and none the wiser, but he's an honest man I would ask everyone give him a shot.
I've known Brian Bogges for about five years, but this is the first time I have had to use him for electrical work.

My hot tub was popping the breaker frequently and I was told it was because the power might be insufficient.  I asked Brian to take a look and give me an estimate.  He was able to put in the conduit and run a new circuit from the panel and install everything that needed to be done in only a few hours.  The cost was very reasonable and his workmanship was excellent.  There was no need for any cleanup on my part and everything has worked perfectly since then.

I recommend you talk with Brian Bogges if you have any electrical needs.  High integrity and great workmanship.
Never had to use an electrician before, most problems were small enough we could always find a handyman or friend to fix. This time we had no idea what problem was. Used home advisor to find all star and Brian was fast, personable, knowledgeable and honest. I would use them again for any electrical job big or small.
We had a number of minor electrical jobs that hd been building up at our vacation home in Russian River. Based on reviews, we contacted Brian at All Star Electric. Due to his heavy workload at that time, he came out to us on a Saturday, rather than leave us hanging - something we really appreciated. He arrived on time - after calling to re-confirm - and took care of everything we needed - plus one new item that we asked about. He was personable, efficient, and reasonably priced. Being able to buy a Yelp voucher helped too!

We would certainly recommend Brian to anyone looking for electrical services, and we will certainly be calling him again when we have a need.
Brian swapped out our main electrical panel & everything works like a champ. His approach is very professional, he handled permitting smoothly, alerted us to things we'd missed, was always where he said he'd be on time & responded to communications promptly. We'll use him again for our next upgrade. Thanks Brian!
Brian did a great job replacing our electrical panel. He made room in his schedule to get it done before the air conditioner installers arrived. Knows his stuff- and I know because I used to be an electrician! The inspector also knew and respected him. The only thing he did not do was remove the old panel or his garbage. Will use him again!
Brian is reliable, meticulous, and always does the right thing. You would be lucky to have Brian working on your electrical project.
All Star Electric has completed a few projects for me over the years.  I just had them install a Juice Box ( Electric Charger ) for my Electric Car.  Brian came out on a Saturday to complete the job.  His pricing was fair given this was a Saturday job.  He and his crew did my kitchen remodel last year which included undercabinet lighting, rewiring for an appliance relocation, moving some electrical switches and wiring for an kitchen island.

Brian saved me some headaches again when the appliance guy( subcontractor not a licensed electrical contractor) recommended to me from Tee Vax and Tee Vax own installation guy could not figure out how to properly wire the new Stove.

I called Brian, Brian left a job he was working on in Geyserville and came out right away to my home in Santa Rosa.  He connected everything in 10 minutes.  Thanks to Tee Vax this job cost me more money, but Brian worked with me on the extra charge for a special trip.  Tee Vax did waive their charge but their subcontractor still charged me for work he could not do properly.
🕑

Mon - Fri 9:00 AM - 6:00 PM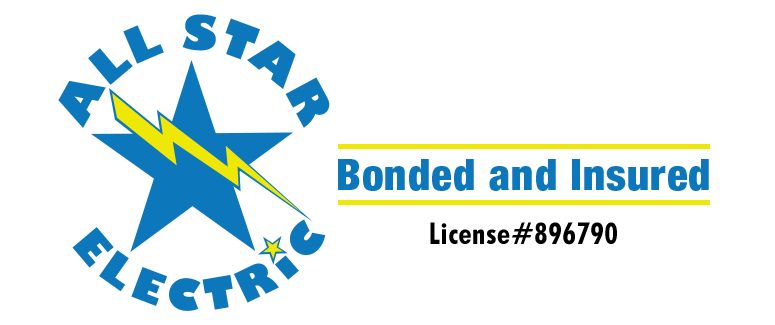 ✔ Cable TV Wiring
✔ Dedicated Circuits Installed
✔ Exterior and Landscape Lighting
✔ Fans-Attic/Bathroom/Ceiling/Exhaust
✔ Home Automation Set-up and Installation


 ✔ 

Panel & Subpanel Changes and Upgrades


✔ 

Surge Protection
✔ Home Inspections for Electrical Issues
✔ Hot Tubs/Jacuzzi's/Spas
✔ Lighting and Chandelier Installation
✔ Lighting Design and Energy Audits
✔ Outdoor Security Lighting
✔ Outlets & Switches


✔ 

Panel Inspections


✔ 

Smoke Detectors
Contact Details:All Star Electric
Box 445
Kenwood, CA 95452
Office: (707) 953-4672
All Star Electric
2021.


All rights reserved. 
Designed by 1 Fine Design, LLC